111 Magdalen Road, OX4 1RQ
01865 803724
​
Monday-Friday: 9am-7pm
Saturday: 9am-6pm
Sunday: 10am-5pm
Bank Holidays: 10am-5pm
​
​
​
​
12 South Parade, OX2 7JL
01865 580541
​
Monday-Friday: 9.00am-6.30pm
Saturday: 9am-6pm
Sunday: 10am-5pm
Bank Holidays: 10am-5pm
​
​
We are now doing home deliveries for vulnerable/self-isolating customers, min order £50, free deliveries within the ring road for orders over £100 (otherwise, £5).
All enquiries, please email matt@wildhoneylove.com
To all of our dear customers,

The last few weeks have been stressful and challenging for everyone, and here at Wild Honey our staff have been working so very hard to keep up with demand, to remain positive, and to make sure that everyone in the community can get whatever they need by way of provisions.

The good news is, that despite the craziest few weeks in all of our lives, the shop is still fully stocked (yes to pasta, the new national dish!) and we intend to remain open and serving you all throughout the days and weeks to come, at our usual hours, 7 days per week, wellness and laws permitting.

We are unable to take cash payments, cards only please, and a minimum £5 spend.

We are now offering a 10% discount to all NHS staff (with photo ID, please) so please let any relevant parties know.

Fresh, organic bread from Modern Baker and Astons Bakery will be delivered daily from next week (inshallah), and in addition to the major deliveries that came in yesterday to both shops, we are expecting a huge fresh fruit and veg order in on Monday (fingers crossed!).

Thank you for all for all being so good natured and understanding while in the shops, and we would also like to take this opportunity to thank our incredible team here at Wild Honey, both in South Parade and in Magdalen Road, who have really gone above and beyond in a supremely hectic time: Sally, Justine, Meg, Kayleigh, Vicki, Casey & Dan, and to welcome our newest member of staff, Katia, who started this week - these guys really are amazing!

Stay well, and we'll see you soon,

x Matt, Jess & The Wild Honey Bees
We have some truly exceptional organic and biodynamic wines lined up for our free tasting tomorrow. Please make sure you have booked, as places are limited. #wine #champagne #christmas #drinks .
Yes! The latest addition to our zero waste in our East Oxford store - keep it local and independent, folks! x
With all the information currently out there regarding the meat industry's contribution to climate change - not to mention all the other horrors associated with the mass commodification of animals - it is becoming increasingly difficult to ignore the appeal of becoming vegan. Indeed, the rise in numbers would appear to be exponential: there are now well over half a million in the UK alone, up from 150,000 ten years ago.
Here at Wild Honey, we have everything in store to support you in choosing vegan, whether you are just trying it out, or are a seasoned herbivore: from a great range of fresh, organic fruit and vegetables, to recipes, diet ideas and lots and lots of delicious, healthy vegan alternatives - cooking oils, dairy, sausages, snacks etc. All of our new, organic wines in store are vegan too!
The Season is most definitely upon us: as we draw inwards for some much needed rest, relaxation, and family & friend time.

It is of course also a time to feast and celebrate, and we have been working hard to hone our selection of the most delectable treats and treasures in store to fill to bursting any Christmas stocking or table. We will also, from next week, be stocking a range of bespoke organic wines!

After their success last year, we are also once again offering exclusive, hand-curated and -delivered Christmas Hampers.
​
These can be filled with anything at all from in store and our Organic Christmas treats, including vegan panettone, gf Christmas cake and pudding , Aston's bakery fresh organic mince pies, mulled punch and spices, peanut butter snowballs all in store now. The perfect gift for that special someone. Min spend £120 (incl free delivery).
​
We are open every day throughout the Christmas period, except Christmas Day, Boxing Day and new Year's Day, 10am-6pm
Wild Honey Pop-Up Supper Club
This Autumn, we are delighted to invite you to our very first Wild Honey Pop-Up Supper - at The Magic Cafe, next door to our Magdalen Road shop. The theme is Colours.
The colour of your food can tell you a lot about its nutritional value. And eating a variety of colours is one sure method to get as many of those vitamins and minerals as possible (and eat a broad, diverse amount of food in the process.) Eating the colours of the season also helps to put you more deeply in harmony with it.
Our guest chef is Pippa Hamwee, an independent ethical caterer with over 20 years expierience creating delicious menus for a wide range of special events. Pippa is passionate about ethically-sourced, quality ingredients and is excited about using Wild Honey products to create a unique , beautiful and colourful feast for you.
All ingredients are 100% organic and available from Wild Honey. We will also give you copies of Pippa's delicious recipes for you to recreate at home. Tickets are £20 and are limited in number. We will be matching select organic wines with the menu. Drinks will be charged separately. Bookings in store .
We are now pleased to offer FREE DELIVERIES within the Oxford ring road, on any orders over £100.
Wild Honey/Holland & Barrett Price Comparison
We were shocked to discover this some time ago, but it would appear to still be the case: Wild Honey is massively cheaper than Holland & Barrett. These prices are correct as of June 2017. Thanks for keeping it local and independent, folks. The rewards are greater than you think!
Master Baker, Syd Aston, in our Summertown store this Saturday, June 10th.
Master Baker, Syd Aston, of Aston's Organic Bakehouse, will be in our Summertown store, this Saturday, June 10, to demonstrate his wonderful way with a loaf, and discuss all things baked, organic and delicious..!
Spring is most definitely here, and we are celebrating with an ever-increasing range of fresh, local, organic produce from our friends at North Aston and Sandy Lane Farm.

This week, fresh out of the ground from within 8 miles from our shops, we are proud to be stocking:
Kale
Spinach
Jerusalem Artichokes
Sweet Baby Leeks
Flower Sprouts
alongside our usual abundant array of delicious, nutritious organic produce

Our local, organic offering is set to expand exponentially along with the sunshine, so stay tuned...

_____________________________________________________________________________

We at Wild Honey are passionately devoted to questing both near and far, to bring you the very finest, organic and ethical produce that we can find (and that you often won't be able to buy elsewhere). So we were very proud when BBC2's new documentary Back To The Land this week featured no less than three of our favourite small, independent producers, all based in Pembrokeshire! Go, Coedcanlas Honey & Marmalade, Nomnom Chocolate & Calon Wen Butter! To watch this thoroughly engaging programme about small rural producers, click here

_____________________________________________________________________________

Sally, who helps to run our Summertown store, has begun laying out a weekly recipe idea on a display table at the front of the shop. If you have any favourite vegetarian or vegan recipes you would like to share with us (and everyone else), we would love to hear from you!

Happy Spring!

Jessica, Matt and the Wild Honey Team
Cheaper than Holland & Barrett!
We think you might be as shocked as we are to discover just how much cheaper Wild Honey is than Holland & Barrett! Here is just a small sample. Please keep it local & independent, folks...
Full Range of Christmas Goodies Now In Stock!
We are now fully-stocked for Christmas! Everything from organic, vegan Christmas puddings, to Montezuma and Divine Chocolate advent calendars, gift sets of Weleda and Ren and, a huge range of organic scented candles, and organic stollen, panettone, mince pies etc etc etc!!


The World's leading brand of healthy make-up, their products contain:
​
No petrochemicals, synthetic substances or mineral oils
No ingredients of animal origin
No talc or bismuth oxychloride
No parabens (Butylparaben, Ethylparaben, Methylparaben, Isobutylparaben and Propylparaben)
No harmful fillers
No genetically modified ingredients
No fragrances or colour components of non-organic or synthetic origin
No anti-microbial agents produced from non-organic sources
No chelating agents based on EDTA and its salts
No fatty chain source material of petrochemical origin
No sulphonation, ethoxylation or propoxylation
No alkyl sulphates (eg. sodium lauryl sulphate, sodium coco sulphate, ammonium lauryl sulphate)
No alkyl ether sulphates (eg. sodium laureth sulphate, ammonium laureth sulphate)
No polyethylene glycol (PEGS)
No polysorbates (eg. polysorbate 20)
No ethanolamides (eg. cocamide DEA, cocamide MEA)
No chemically synthesized sunscreens
No potentially harmful preservatives such as parabens and sodium benzoate
No gluten or lactose
As a thank you to YOU, our loyal customers, we are excited to announce that we are today launching our new Wild Honey Loyalty Cards. Every time you spend £20 - in either of our shops - you will get a stamp on your card. When you have collected ten of these, we will give you 10% off your next shop, whatever you spend!
Summertown Launch Celebration: Thursday 8th September
On Thursday, 8th September, we celebrate the opening of our new Wild Honey Store at 12 South Parade, Summertown, with a tantalising array of guests...
​
The shop will be open from 8.30am (in keeping with our new, week-time opening hours of 8.30am-6.30pm), with fresh, Organic bread, fruit and veg, and a store bursting with lots of other local produce.
Throughout the day, different producers and suppliers will be visiting the shop to show off their wares, including our wonderful master baker, Syd Aston, from Aston's Bakehouse, Oxford-based organic popcorn and snack people, Nom Foods, and the inspirational Tania Hawkes, of Therapi Skincare. Tania is head bee-keeper for the Daylesford Estate nr Chipping Norton, and has created a beautiful range of honey-based, organic skincare.
​
Also dropping in, will be an Oxford maker of exceptional raw, organic, vegan cakes, Eloise Macdonald, representatives of leading New Zealand-based Manuka honey and avocado skincare brand, Antipodes, and leading organic supplement makers, Royal Green.
​
We very much hope you will be able to join us at what we hope will be the first of many such events at our Summertown store.
​
x Jessica & Matt and all at Wild Honey
After a great first week in Summertown, we will from tomorrow be selling Aston's Bakehouse' beautiful, fresh, organic bread at our new shop in South Parade. Be sure to come early if you want some as we'll only be starting with a smallish order...we'll have the usual abundant quantities in Magdalen Road as ever, however..We've also got plenty of organic spinach, chard and broad beans in both shops, freshly picked this week by our friends up the road at Sandy Lane Farm
New Wild Honey Store Opening Soon!
Yes, folks. The exciting news is that we have just taken possession of a wonderful building on South Parade, in Summertown, and will be opening our second shop in the next few weeks!
​
We will be selling much of the same local, organic and ethical produce that we currently stock in Magdalen Road, and are really looking forward to meeting many new friends and customers in sunny North Oxford.
​
Watch this space...
Thursday Tasters at Wild Honey
Spring Abundance comes to Wild Honey.
This Monday, April 11th, we celebrate the grand expansion of our shop. Hope you can join us!
Shop Expansion & Easter Opening Times
Due to overwhelming demand, we have decided to stay open over the Easter weekend (10am-5pm, Sat, Sun & Mon). Happy Spring y'all!
As you would have noticed if you have been in to the shop lately, we have been busy putting the finishing touches to our new shop expansion. From Monday, 11 April we will be offering even more local, organic fresh produce, dried goods, a much wider range of supplements, vitamins, skincare as well as organic make up, and a whole host of other products.

Will also be stocking local organic meat and fish for the first time, and are putting in a range of bulk dispensers to help reduce the madness of packaging. Over the past year, it has been wonderful for us to discover and learn from so many of you, and what it is that you want from your local, independent health food shop. Wild Honey is very much a community collaboration, and so if there is anything you would like us to stock for you, please let us know.
Our grand opening will be on Monday April 11, and by way of celebration we'd like to give you a free, fair trade cotton, Wild Honey tote bag, when you spend £20 or more.

Please note our new opening hours:
Monday - Friday 9am - 7pm
Saturday 9am - 6pm
Sunday 10am - 5pm

Also, please note that we will be closed on Sunday April 10th, reopening the new, expanded Wild Honey on Monday April 11th.

Some of the exciting new brands and ranges we will be offering include:

Inika, creators of the world's leading organic makeup

Pukka Herbal Supplements

Avalon Organic Shampoos

and many many more...

x Jessica, Matt & all of us at Wild Honey
So great to see in the news that France has just passed a law insisting that supermarkets can no longer throw away food, but must instead make sure it goes to those in need. This is long overdue, and we have been doing it ever since we opened - all of our wastage goes to our local homeless shelter. We look forward to this becoming law in the UK also, and all over the world. Time to end wastage!
Wishing You A Happy & Healthy New Year!
Dear All,

We hope you had a great Christmas & New Year. Now is the time to start regaining your health, if you happened to have over-indulged just a little too much!

No better way to start the New Year than with a simple, healthy AND delicious eating plan. We have everything in store to get you into great shape, along with recipes, ideas and nutritional advice on how best to build up your strength and well-being for the cold months still to come.

One amazing way to start the day is with a super green smoothie. In addition to organic bananas, avocados, kale, apple, rocket, ginger etc, with organic almond milk or coconut water - all of which we stock in great abundance - you could also add any of the following supplements to really give your immunity and health a boost:

Udos Oil: rich in Essential Omega Fatty Acids
Chia Seeds: Packed with anti-oxidants, chia seeds also contain calcium, manganese, and phosphorus, and is a great source of healthy omega-3 fats.
Chlorella: Contains Vitamin A, B2, B3, Zinc, and is a very powerful detoxifier
Barleygrass: Super alkalising, and packed with antioxidants, Barleygrass is renowned for boosting immunity.
Wheatgrass: is a super-powerful healer because it contains all minerals known to man, and vitamins A, B-complex, C, E, l and K. It is extremely rich in protein, and contains 17 amino acids, the building blocks of protein.
Spirulina: Packed with a huge array of nutrients
Cacoa Nibs: Rich in cancer-fighting flavonoids and antioxidants for a heathy heart and system.
Hemp Seeds: Excellent 3:1 balance of omega-3 and omega-6 fatty acids, which promote cardiovascular health. High in gamma linolenic acid (GLA), an essential omega-6 fatty acid found in borage oil and egg yolks that has been proven to naturally balance hormones.


***********************************************************************************************

We are currently working hard at the back of the shop, converting scaff planks into shelving - and will shortly open up a new and even more abundant Wild Honey!

In addition to our ever-expanding array of organic whole foods, local fruit, veg and dairy, skincare, supplements and beauty products, we will be able to stock even more locally sourced produce, bulk refills, organic frozen food, organic meat & fish, and even organic pet food! If there is anything you would like us to stock for you, please let us know.

***********************************************************************************************

Please note our new opening hours:
Monday - Thursday 9am - 7pm
Friday - Saturday 10am - 6pm
Sunday 10am - 5pm

Wishing you a happy and healthy 2016,
Jessica, Matt & The Wild Honey Team

Wild Honey Gift Vouchers!
Treat someone special to something special, with a Wild Honey gift voucher! The Store is brimming with heavenly products, gifts and treats: from Ren, Weleda & Antipodes skincare to beautiful local honeys - and of course a huge variety of healthy, organic foods and supplements, cook books, crystals, candles, soaps etc etc - they are bound to find something both delicious and inspiring...
This Tuesday December 1st, is our first birthday, and to celebrate, WE ARE OFFERING YOU 10% OFF ABSOLUTELY EVERYTHING IN THE WILD HONEY STORE, when you spend £20 or more.

We'll also be serving FREE mulled spice punch, and fresh, organic locally-made mince pies all day, on us!

The last twelve months have been a hugely exciting and inspirational time for us here at Wild Honey.

We would like to thank all of you who have supported us - and who continue to support us - in our desire to bring you the finest, freshest, local, ethical and organic produce available, and also for choosing to invest in the local economy, rather than supermarkets. And we can promise that you will enjoy a more relaxing Christmas shopping experience with us! (on the Wild Honey playlist this week: vintage roots reggae and pure audio sunshine, care of Mr. Bob Marley).
It must be Harvest Time..
Dear Friends,
We are feeling super-abundant here at Wild Honey right now, with a sumptuous array of Organic, local produce adorning the shop, both inside and out.
Our range of local independent producers is growing all the time, and we are now proud to stock the freshest, organic fruit, veg, dairy and other delicious produce from the likes of:
North Aston Organics
North Aston Dairy
Sandy Lane Farm
Aston's Organic Bakery
Willowbrook Farm
Hook Norton Honey
Oxford Honey
Natural Pampering
Therapi Skincare
Porch Preserves
We are always looking to source as much quality local produce as we can, so if you think we are missing something, please let us know!
So many of our customers have lately been reporting that they've found our prices to be often cheaper than those of the supermarkets, that we decided to do a little independent research to verify these outlandish claims!

And it does indeed transpire that while many of our products are cheaper than those of both Sainsbury's and Waitrose, it was Ocado that proved the biggest surprise. Here is but a small sample of the price differences that we found, some of them pretty significant. Just because we are beautiful doesn't mean we are unaffordable!

Product Ocado Wild Honey

125g Organic
Mozarella £2.80 £2.39
Large Organic Eggs £2.49 £2.45
Organic Leeks £6.38 kg £4kg
Organic Lemons £0.59 £0.50
1Ltr Organic Almond Milk £2.95 £2.79
500ml Organic Kefir £1.95 £1.79
Organic Quinoa £6.99 £4.99
Organic Creamed Coconut £2.20 £1.99
Organic Coconut Milk £2.09 £1.99
Organic Bouillon £2.35 £2.25
Organic Biona Wasabe £3.19 £2.99
Doves Farm Organic
White Rye Flour £1.95 £1.79
Doves Farm Organic
Wholemeal Flour £1.95 £1.69
Clearspring Soba
Buckwheat Noodles £4.85 £3.99
1Kg Organic Peanut Butter £6.99 £6.49
Organico Procini Pasta Sauce £2.40 £1.69
Pro Fusion Himalayan Salt £4.09 £3.99
Montezuma Chocolate Buttons £2.99 £2.79
Booja Booja Champagne Truffles £11.99 £9.99
Rock's Lime Cordial £3.49 £2.95
Jason's Vitamin E Cream 120g £8.99 £7.49


As well as local, ethical businesses like our's caring passionately about the planet, both locally and globally, putting your hard earned income into the local economy also means it has a greater chance of coming back to you!

Here is how it works: you do your shopping at Wild Honey (or any other local shop), who in turn become empowered to employ a range of local people, suppliers and services (one which might well be you), who in turn can do the same, and round and round it goes, nurturing and investing in our own community instead of money disappearing into the coffers of some faceless corporation and their shareholders!
So, please have a think about shopping more locally: the greatest beneficiary may well be you!
Honey & Bee Demonstration
Honey is nature's liquid gold and has been loved and prized since ancient times. In a single drop it holds the nutritious nectar and precious essences of thousands of flowers.
This deliciously sweet elixir has been regarded as a miracle substance used to restore good health in cultures all around the world. Ancient texts tell how honey was a highly valued commodity, used as a precious food and medicine, offered in sacrifice, demanded in tax, bathed in and used in ceremony.
Even today, our word 'honeymoon' comes from the traditional European practice of supplying a newly married couple with enough honey mead for a month, ensuring happiness, health and fertility.
Come and meet Tanya Hawkes founder of Therapi Honey Skincare and local beekeeper to discover more about honey, its many uses, the miraculous creatures that make it and what we can do to help bees.
11am-3pm
Going With The Flow - Sunday 10th May

We are delighted to have the wonderfool Tim Goldman offering a morning workshop with us, on Sunday 10th May, 10.30am-12.30pm - Going with the Flow

Combine the spontaneity of play and the joy of moving the body in expressive and innovative ways.
Using playful exercises and music we will explore self-expression in a light-hearted way through our own idiosyncrasies and the impulses of others.
£12/10 conc
Book a place or find out more by emailing timtog21@yahoo.co.uk or call 07989966087
Chayou Tea Workshops - Four weekly investigations, beginning Friday 15th May, 1-2pm
A 4-week course in Tea, with James Thirlwall, begins Friday May 15th, at 1pm.

Each Friday, between 1 and 2pm, we taste a different tea or teas and share a different aspect of tea culture.

You can drop in as and when you like or come every week.

Schedule:
Week 1 - 15th May - Green Teas - from Japan, China, Korea and Taiwan
Week 2 - 22nd May - Oolong Teas - from China, Japan and Taiwan
Week 3 - 29th May - Black Teas - from China, Japan and beyond
Week 4 - 5th June - Puerh Teas - from Yunnan Province in China
About Chayou

CHAYOU means 'tea friend' in Mandarin and it is the idea of friendship through sharing tea that is central to all of our tea events. Our team comprises a group of tea experts and enthusiasts with one common aim - to inspire and educate people around the world about the joys of tea and tea culture.

CHAYOU events are always entertaining, engaging and accessible to everyone.

About James

James is the founder of CHAYOU and our lead tea educator who spent his early twenties living in Japan before returning home to study Chinese Medicine. James's enthusiasm for tea led him to set up CHAYOU to share tea and tea culture with as many new 'tea friends' as possible.

Booking
Places are strictly limited to only 8 for each session, and priced only £8/£6 (concs). To book, please email us, drop into the shop, or call 01865 803724
Brand New Saturday Morning Class, Starts April 18th
A new SATURDAY MORNING Vinyasa Yoga class starts this Saturday, April 18th, with Laura Hancock. The class runs from 11.45am-1.15pm and is open to all levels.
Laura is the only UK-based teacher certified to teach the Moon Sequence, an intuitive and grounding vinyasa sequence designed to encourage contact and acceptance of the body and mind - just as it is. Her teaching style mirrors her own experience of the many facets of yoga, incorporating significant influences of Vinyasa Krama (as taught by Matthew Sweeney), Ashtanga Yoga, Vipassana Meditation, and Ayurveda.
UK & US No.1 Bestseller, Amelia Freer, Q&A at Wild Honey
Book Signing and Q&A with Amelia Freer at Wild Honey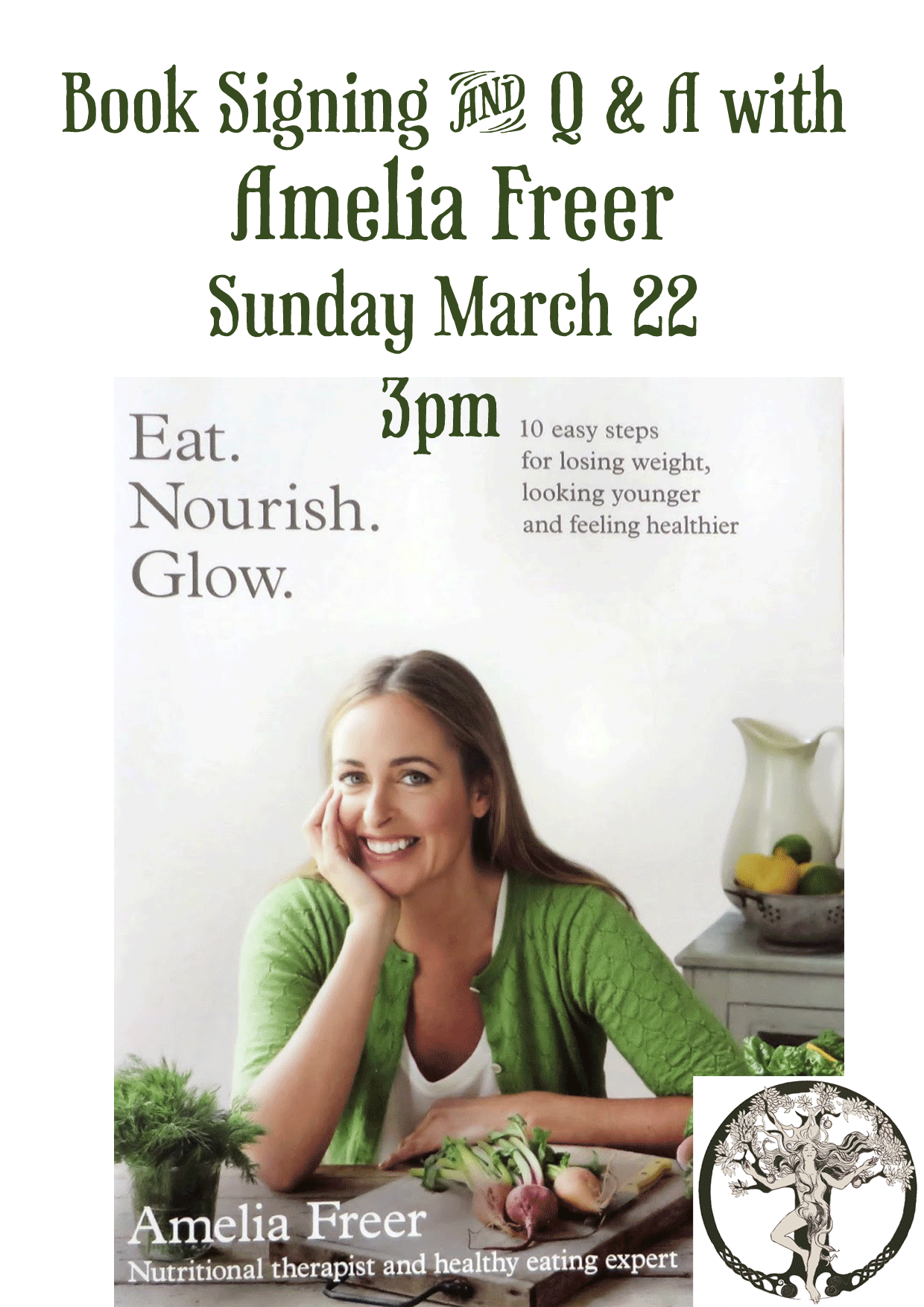 We are delighted to be hosting a book-signing and Q&A session with best-selling author, nutritional therapist and health food expert, Amelia Freer, whose enormously popular book, Eat. Nourish. Glow. was published in January.
"Amelia Freer is changing my life" - Sam Smith
Amelia will be with us on Sunday March 22nd, at 3pm. The event will be free entry but, as space is limited, entrance will be on a first come first basis.
All Tamara's Parties at Wild Honey on 28.2.15
Featuring The August List, Nia & George Chopping
Mindfulness Course at Wild Honey
Mindfulness Course, with The Mindfulness Exchange

We are shortly to be offering a four-week Mindfulness Course, plus two Free Introductory Talks, with Mark Leonard from The Mindfulness Exchange

Free Introductory Talks: Friday January 23rd and Friday January 30th at 7pm.

The Course dates are on four consecutive Fridays, 7.00-8.30pm:

Feb 13th
Feb 20th
Feb 27th
March 6th

and take place in the Studio at Wild Honey, 111 Magdalen Road, Oxford, OX4 1RQ, 01865 803724

The course costs £100 per person. Places will be limited and booking is advised for both the course and the free introduction sessions.

TME courses are based on the best selling self-help book, Mindfulness: A Practical Guide to Finding Peace in a Frantic World, which adapts the scientifically validated approach to teaching mindfulness as a therapy to manage stress and improve quality life.

Their courses reduce the time commitment and significantly adapt the teaching style of therapeutic mindfulness groups to create a friendly and engaging training environment, where the psychology of mindfulness is explained using teaching aids and group activities alongside short mindfulness exercises from the course book.
Continuum Movement Workshop at Wild Honey
Continuum Movement supports our potential for flexibility, fluidity, health, and vitality.
Continuum movement is a practice where we inquire into the living landscape that we call "body", and lets us experience how we can open into deeper levels of connection and resonance and fluid movement.
In this workshop we will awaken our experience of fluidity and consciousness from within. We will move from a more outward focus and enter into the soft ripples of movement within our tissue through the practice of Continuum breath and fluid movement.
As we slow down and become more receptive. As we calm our nervous system and open our receptivity to the natural rythms and the profound energetic presence of our nature, we discover connections and wake up a new level of consciousness.
Jane is an authorised Continuum Movement teacher. She has been practicing somatics for 19 years and has a private practice in craniosacral thearpy, Continuum and Somatic Movement Therapy in Blackheath, London.
See http://okwellbeing.com/ and http://www.youtube.com/watch?v=IAacwbfveys for more information about Continuum Movement.
Please reload